Technologically advanced and reliable selfie stick. If you look for compact, reliable and affordable selfie stick. Your best choose is Diniwid Monopod.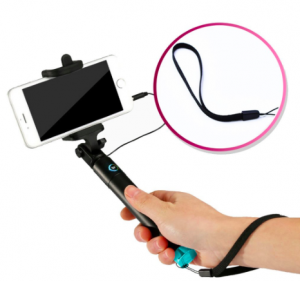 Plug and Shoot: Taking selfies has never been so simple. Simply plug in the connector to your phone's headphone jack and instantly begin taking selfies. No Bluetooth or charging required, just plug and shoot!
Highly Adjustable: Your arm can't stretch out 80 centimeters, but this selfie stick can! An extendable body and flexible phone cradle allow you to capture shots from various angles.
Compact Design: Slip the selfie stick right into your pocket. Weighing a mere 120 grams and measuring 18 centimeters when retracted, this monopod is the perfect selfie partner.
Increased Compatibility: Works with virtually any iPhone or Android smartphone between 5.6 and 8.5 centimeters wide. (Not compatible with Windows OS devices).
What You Get: Diniwid Selfie Stick, wrist strap, welcome guide, our worry-free 24-month warranty and friendly customer service.